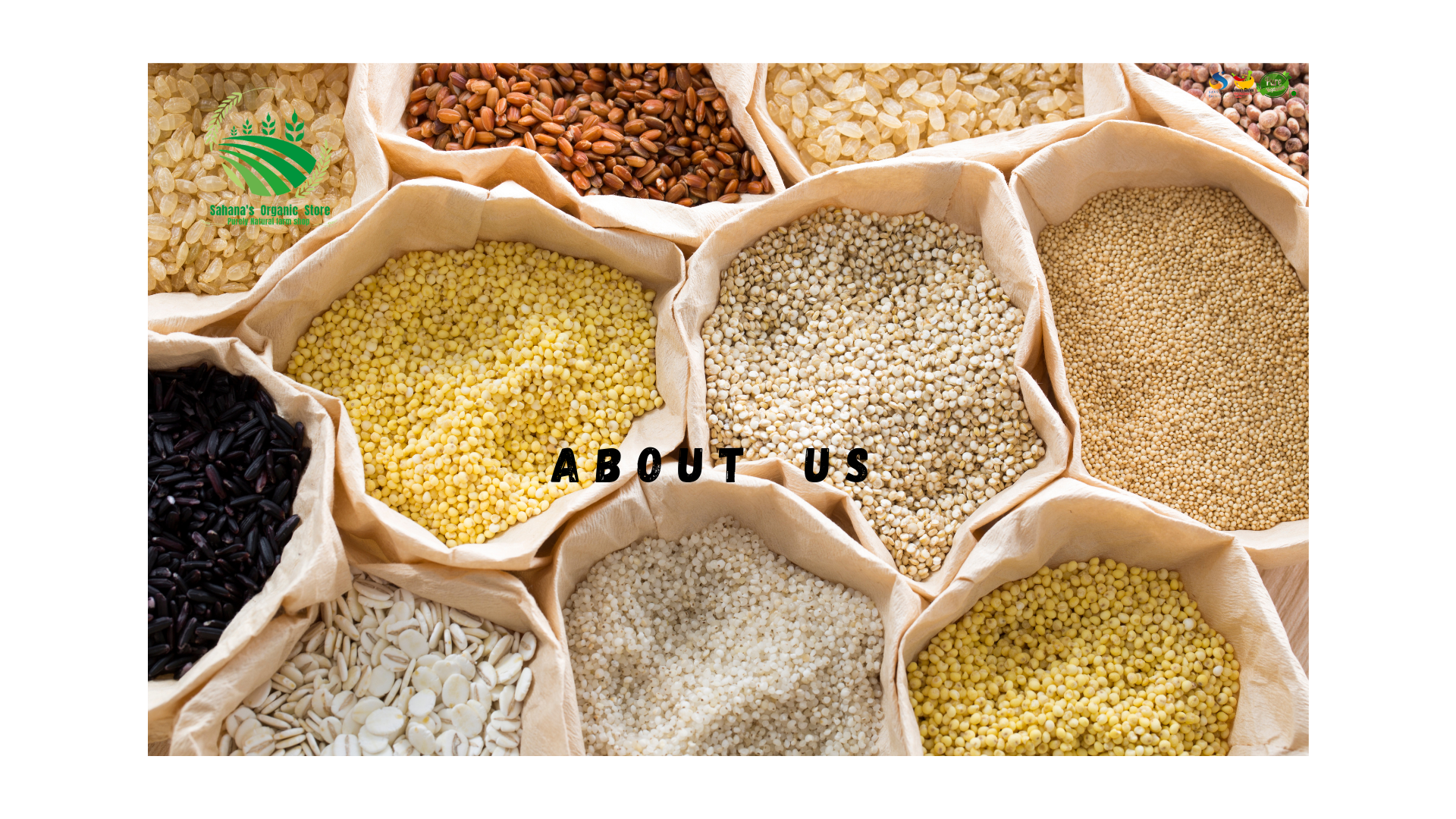 Sahana's Kitchen born in the Year 2022 is aimed to create varieties of Food with differing tastes, at the same time our food products do not contain preservatives or chemicals harmful to health in the long run...
Currently we supply the best quality of Traditional and ancient RICE / LENTILS & MILLET products direct from the Farm…These products are are proven for having low GI, High Fibers and very good for Diabetic people and keep the sugar levels in good control. Good for all age group people.. These products, prior ordering online through this website, can contact us and after due advise, can go ahead and make the order… Once ordered, The products can be delivered to our valuable customers upon extra cost depending upon the delivery distance / courier charges  and also it shall depend on the Order quantity..
At Sahana's Organic Shop, we are dedicated to preserving and promoting the rich culinary heritage of traditional rice and millet-based food products. Our mission is to provide high-quality, nutritious, and sustainable products that reflect the diverse cultural and gastronomic traditions of various regions around the world.
Our Story: The idea for Traditional Rice and Millet Products was born out of a passion for preserving age-old culinary practices and promoting healthier food choices. As we witnessed the increasing reliance on processed and refined foods, we recognized the importance of revisiting traditional grains like rice and millet, which have been staples in many societies for centuries.
Inspired by the wisdom of our ancestors, we embarked on a journey to source the finest and most authentic varieties of rice and millet from different corners of the globe. We collaborate with local farmers and communities to ensure that our products are not only of the highest quality but also sustainably grown and harvested.
Our Products: At Traditional Rice and Millet Products, we offer a wide range of traditional rice and millet-based food products. Some of our flagship products include:
Heritage Rice Varieties: We curate a collection of unique and heirloom rice varieties, each with distinct flavors, textures, and aromas. From fragrant Basmati rice to nutty Red rice, our selection showcases the diversity of rice cultivated through generations.

Ancient Millet Grains: Millets are gluten-free, nutrient-dense grains that have been consumed for thousands of years. We offer a variety of millets such as Foxtail, Finger, Pearl, and Sorghum, packed with essential nutrients and suitable for modern dietary preferences.

Ready-to-Cook Mixes: To make traditional cooking convenient, we have developed a range of ready-to-cook mixes that incorporate rice, millets, and a blend of spices. These mixes enable you to recreate authentic dishes with minimal effort.

Organic and Sustainable: We are committed to sustainable agriculture and prioritize organic farming practices. Our products are free from harmful chemicals and pesticides, ensuring a healthier choice for both you and the environment.

Promoting Local Communities: By sourcing directly from local farmers and cooperatives, we aim to empower rural communities and promote fair trade practices.
Our Vision: Our vision is to see traditional rice and millet products regain their rightful place on modern dining tables. We believe that these ancient grains offer a healthier and more sustainable alternative to many contemporary food choices. By preserving and promoting these traditions, we hope to contribute to a more diverse, nourishing, and culturally rich food landscape.
Join Us: We invite you to join us on this journey of rediscovering the beauty of traditional rice and millet-based foods. Whether you are a culinary enthusiast, health-conscious individual, or a proponent of sustainable living, our products are designed to cater to your needs and preferences.
Thank you for choosing Sahana's Organic Shop. Together, let's celebrate the legacy of traditional grains and foster a healthier and happier world.
Intending to Launch our other products like Veg Masala Powders for daily cooking like Sambar powder, Rasam powder, Molaga Podi Powder, Briyani / Pulau Masala, Karuvappalai Podi, Paruppu Podi, Turmeric Powder, Red Chilli Powder, Coriander Powder, Jeera Powder, Pepper Powder and many more.  Also Pickles / Thokku Varieties….
"The Finest Flavours Explored Ever…… HOME MADE…"   is not just in words, but striving to do in reality as well with all our valuable customer support / feedbacks…
Our intention at Sahana's Kitchen is to give value to customers with a touch of class in all our products.. Traditional homemade products, safe and healthy….